This website is designed to assist potential and current Matrix partners to understand and use the tool. Select the topics to utilize the site.

Click on the "What's New" button to see the results of the FDM protocol survey with 110 responses, January–February 2014. The questions are ones that follow the FDM protocol for client and family assessment and case management. The results are important to maintain the integrity of the relationship process with clients.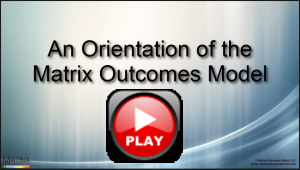 Watch our video to learn more about the Matrix Outcomes Model
Welcome to Our Website

The Matrix Outcomes Model helps transform agency outcomes through custom measures. We offer a collaborative approach from design to implementation. The result is an outcomes model to measure real change with families, agencies and communities.

The Matrix Outcomes Model provides a set of complimentary assessment, case management and evaluation tools. The Matrix has evolved with state and community partners who continue to refine the language, structure, and guidelines of the tool as they apply it to their programs.

Agencies using the Matrix usually have combinations of these program characteristics: they strive to be accessible, accountable for results, collaborative, community based, comprehensive, culturally sensitive, integrated, family focused, prevention focused, school linked, and tailored to individual, family and community needs, family strengths and outcomes.